How to Insert your Logo and Signature in Emails - Email Google Spreadsheets
The Email Spreadsheets add-on allows you to add customized signatures and company logos in the email body while creating a workflow so your emails look more professional.
How to add a signature in emails​
A well-designed signature can help make your emails look more professional and polished. If you have a business, the email signature can be a good way to promote your brand and products. A signature may include your name, title, your company's name, your contact information and links to your social media profiles.
There are two ways to add a signature to your emails.
Copy Existing Signature from Gmail​
If you have already created a signature in your Gmail account, you can use the same signature in the body of your emails created with the Email Spreadsheets add-on.
Go to Gmail > Settings > See all Settings and scroll down to the Signature section. Here you can copy the signature to the clipboard and paste it into the body of your email message.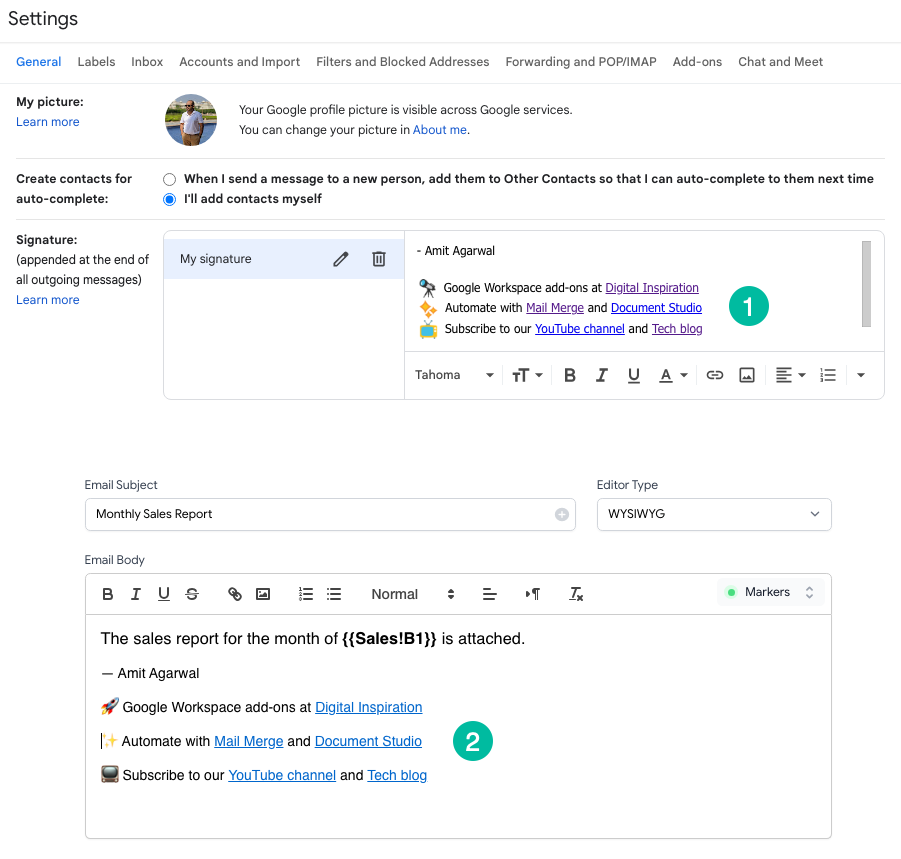 Design your signature in HTML​
When you copy signatures from another source and paste them into your email message body, some of the signature formatting and styles may not be preserved.
In such a scenario, it is recommended that you export the signature as an HTML file and import the HTML into your message body. You need to switch the Editor type from "WYSIWYG" to "HTML" to use raw HTML.
Please do not switch to the WYSIWYG mode after importing HTML as the inline styles and attributes may not be preserved.
How to Insert Company Logo in Emails​
To insert your company's logo in the email body, the first step would be to download the logo as a PNG/JPG/JPEG file to your computer.
Click on the image icon in the toolbar of the email body editor. From the dialog box, locate where your logo is saved, or type the file name in the 'File name' field and click 'Open'. Your logo has been inserted in the mail body.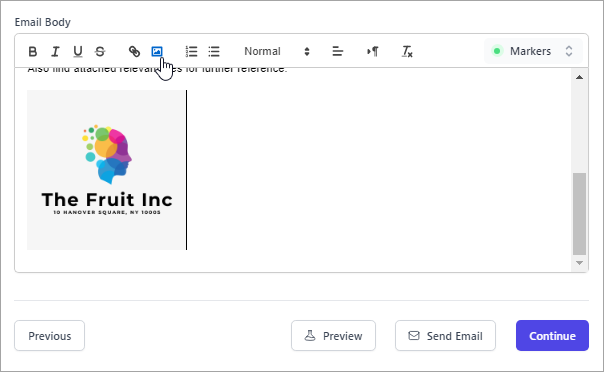 You can also insert a GIF file or an emoji in the message body.